Veneers at Dental Circle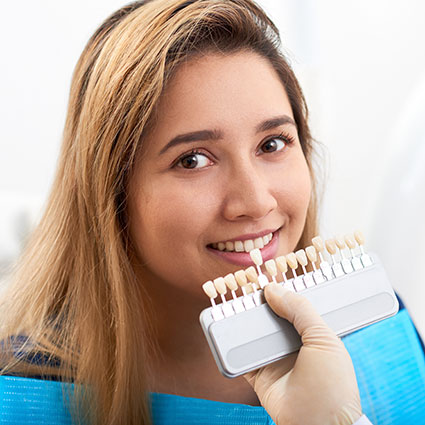 Do you have chipped, damaged, discoloured or worn teeth? If yes, veneers are an excellent solution. These facings can be placed over the teeth to dramatically improve their appearance. With veneers, we can change the contours or the colour and shape of your teeth. Veneers are also ideal for those with crowding or space issues or overlapping teeth. With veneers, you can achieve a smile you'll be proud to show off.
Types We Offer
There are a few types of veneers available at Dental Circle. One uses a direct white filling material. While this option doesn't provide the long-lasting results that ceramic veneers do, you can still achieve nice results in a minimally invasive manner. However, ceramic white veneers will yield the longest-lasting results.
First, we will do a consultation to determine if you're a suitable candidate for veneers.
At your second visit, we do a mock-up. We will have a lab do the mock-up to show you what your teeth may look like with veneers. Then when we get the mock-up results, we replicate that onto your mouth from the diagnostic models. Using this temporary material, you can see how your smile may appear with veneers. It's like giving your veneers a trial run.
If there's any tweaking that needs to be done we can send the model back to the lab to do a second mock-up. We want to make sure we're 100% happy with your veneers before we start the procedure.
To prepare your teeth for veneers, your dentist will thoroughly clean them. This step is crucial, as it prevents bacteria from getting trapped under the veneer and causing decay. Next, your dentist will use a special grinding tool to create a rougher texture on each tooth on which a veneer is to be placed. This process makes it easier for the veneer to adhere to the tooth.
Your dentist will use dental cement to affix the veneer to the tooth. Lastly, ultraviolet light will be used to harden the cement quickly. That's it!
Because veneers are ultrathin, if you grind or clench your teeth we recommend wearing a nightguard. This appliance will protect your veneers against getting chipped or fractured. It's also important to adopt a good oral hygiene routine that includes brushing and flossing your teeth and maintaining good gum health. When your gums are healthy, they won't recede away from where we finish off the veneers.
We recommend regular checkups and cleans.

Composite veneers don't last a long time because they are made of a direct filling material so they last about 5-7 years. With ceramic ones, they can last 10 years to a lifetime.
Will veneers make my teeth look too white or large for my face?

For patients who ask if their teeth will look too white or too large for their face we reassure them that we will give them a mock-up stage. This means we can transfer what the lab has come up with directly onto your mouth without preparing your teeth so you get to have an idea of what they look like in terms of dimensions or your smile window. We try to minimise any risk that you'll be dissatisfied or that the veneers look unnatural.
Is there anyone who can't get veneers?

If your tooth is severely broken down or you have existing large fillings on your front teeth you won't be able to get veneers. For those cases we can discuss a combination of some veneers with full-coverage crowns.
How are crowns different from veneers?
Crowns are different from veneers as
crowns
cover the entire tooth and veneers only cover the surface that we see-the front-facing surface. If your tooth is badly damaged or broken down we recommend a crown.
Sometimes there's not adequate space to have the veneers or if you have existing gum disease or gum recession we may need to consider alternative options.
Book a Consultation
Discover how veneers could help enhance your smile. Contact our Bassendean dental office today to schedule a consultation!
CONTACT US »

Veneers in Bassendean WA | (08) 9379 3818