Teeth Whitening at Dental Circle
If you have teeth that appear tarnished or dingy, you may be reluctant to smile. With our teeth whitening options at Dental Circle, we can help brighten your smile!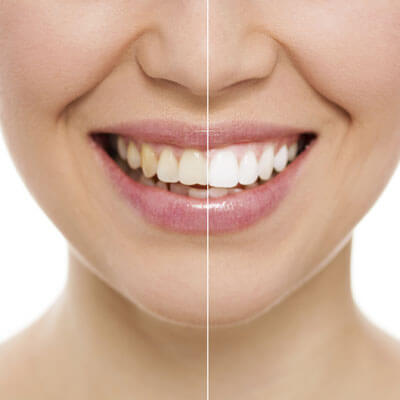 Our Brands
We offer two brands of teeth whitening, both of which get excellent results.
Boutique
As Boutique is a professional teeth whitening method, it can only be prescribed by a dentist. If you choose the Boutique by Day formula, you need to wear the trays for 1.5 hours a day. We also offer four overnight gels: the Boutique by Night and Hybrid Pro gels that will whiten your teeth overnight as you sleep.
To get started, your dentist takes a mould from which we can craft your customised whitening trays. You then decide with your dentist which system is most ideally suited to your lifestyle. You then simply apply the gel as directed to get the new brighter, whiter smile you've always wanted.
Pola Day
Whiten your teeth in the comfort of your own home, at a time that's convenient for you. Your Pola dentist will provide you with your own whitening kit with custom-made trays and Pola whitening gels. You can achieve whiter teeth in 5-14 days.
Pola Day features a neutral pH teeth whitening formula that can achieve your desired whitening effect in about 30 minutes a day. Each contains fluoride to remineralise your teeth and shield them against tooth sensitivity.
Pola Day also uses hydrogen peroxide, a quick-acting tooth whitening ingredient to get you a whiter smile fast. The unique Pola formula includes desensitising technology which will minimise sensitivity. Some patients may experience some sensitivity, which can be managed with shorter, more frequent whitening treatments, or by switching to Pola Night.
Your dentist can help you select the best strength for your teeth. In general, the higher the concentration, the quicker the treatment will be. However, stronger concentrations can lead to sensitivity. If the directions are followed, each concentration will ultimately yield the same result-a whiter, more confident smile.
The first step is coming in for a comprehensive checkup to make sure you don't have any decay or disease in your mouth. That's because whitening procedures can have an adverse outcome if we don't have a full checkup before that.
After your checkup, we will make customised trays and provide you the solution so you can whiten your teeth at home. You will use the trays over a period of 2-4 weeks and will see changes. You will be given instructions along with the custom trays that contain the whitening solution.
Go into any chemist or other store and you'll see an array of teeth whitening options in the form of toothpastes, strips and kits. While you may get some degree of whitening with these options, it's always preferable to go to the dentist for whitening.
Here's why. Teeth whitening is a cosmetic medical procedure and like anything else carries some risk. If you're interested in whitening your teeth, we highly recommend that you see a dentist. A dentist will perform a checkup and a clean to make sure no existing cavities or gum disease are present. Teeth whitening can exacerbate those.
Another reason why it's advisable to have whitening done by a dentist is we use a high-strength whitening solution. If you used such a formula at home you could burn your gums. Because your dentist will oversee your whitening, any risks will be minimised.
Not everyone is suitable for whitening so it's best to have a dentist assess that for you prior to doing the whitening process.
If you're pregnant or have other medical conditions that could be affected by whitening you will not be able to have the treatment.
We recommend whitening at various intervals versus continually bleaching them. You whiten for about two weeks, take a week off and you'll continue to get a slow gradual change.
Also, come in for regular checkups and cleans to make sure you're not picking up any new stains on your teeth. Right after whitening, you should avoid certain staining foods that have additives or colourants that can pick up stains because the teeth are porous.
The whitening results will depend on the type of discolouration that you have. Not everyone's results will be the same level of whitening. It depends on the colour of your teeth and what has caused the initial staining. So it's good to have an initial consultation to see what's caused the staining. That will give us an idea of what to expect in terms of results.
Contact Our Bassendean Dental Office Today
If you'd like to brighten your smile with teeth whitening, call (08) 9379 3818 today to schedule a consultation!
CONTACT US »

Teeth Whitening in Bassendean WA | (08) 9379 3818