Restorative Dentistry at Dental Circle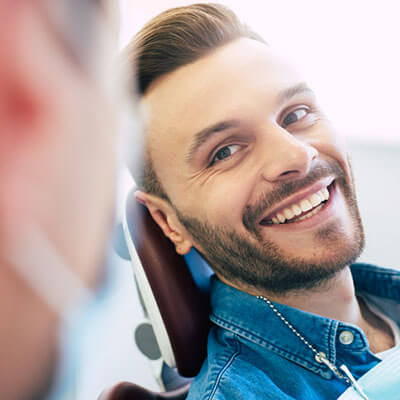 If you have one or more missing teeth you likely feel reluctant to smile. Missing teeth not only can make eating difficult but it can leave you feeling self-conscious when speaking, laughing or eating. At Dental Circle, we are passionate about helping to restore patients' smiles so they can have the functional and confident smile that they want.
We offer the following restorative services to help you regain your smile:
Dental Implants
If you're looking for a natural and long-lasting way to replace missing teeth, this is it! Dental implants can help restore your smile beautifully.
Dentures
As a tried-and-true way to replace one or more missing teeth, dentures are much more comfortable than ones of the past. They also look more natural than those of generations gone by.
Fillings
Despite their best oral hygiene habits, lots of people still end up with cavities. We offer tooth-coloured fillings that seamlessly match your other teeth.
Benefits of Restorative Dentistry
There are many benefits to restorative dentistry. Some patients may elect to have a tooth pulled if it is causing issues and may not consider replacing it. However, there are many reasons why having one or more teeth restored is an excellent investment.
Have Functional Teeth. You need your teeth to help you chew food and speak properly. By having minor restorative treatments done when they become necessary, you prevent the problem from worsening to the point where a more complicated procedure is needed or until the tooth is beyond repair. Restorative dentistry can help you maintain your teeth for a lifetime.
Avoid Pain. If you have cavities or severely decayed teeth you likely will be experiencing pain when not treated. But in the majority of cases, if you are visiting the dentist twice a year, cavities can be detected and filled before they cause any pain.
Preserve Bone Strength. If you have a severely decayed tooth that needs to be removed, replacing it with a dental implant can prevent bone loss in your jaw. If you have a tooth pulled or if you lose a tooth but forego replacing it, the jawbone that kept the tooth in place will begin to weaken and ultimately dissolve. Restorative procedures can save the tooth or replace it if it is beyond saving.
Enhance Your Appearance. Restorative procedures that save or replace your teeth will allow you to enjoy a natural-looking and confident smile.

Restorative Dentist in Bassendean WA | (08) 9379 3818