New Patients at Dental Circle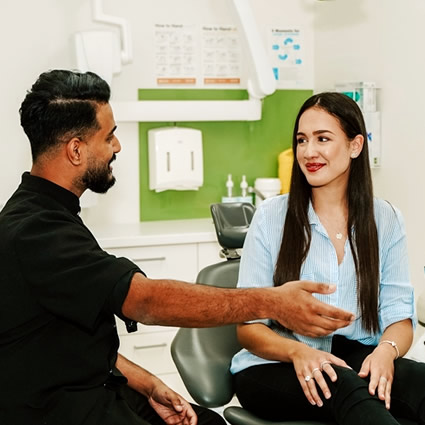 During your visit, you'll be greeted by professional and welcoming staff who are ready to accommodate your needs.
Our well-equipped practice boasts the latest technology. Enjoy efficient care that's tailored to your smile and lifestyle.
Getting Started
If it's your first visit as a new patient we will have you complete your medical history and discuss any pre-existing health conditions you may have; we care about your overall health not just your dental.
Your first appointment is typically a checkup. We'll complete a comprehensive exam to evaluate your existing dental work and potential concerns that need attention. Digital X-rays help us to assess areas of your teeth that are not visible during a clinical exam. We will perform a scale and clean and provide a fluoride treatment to desensitise your teeth if there's any sensitivity. The fluoride treatment can help to strengthen any weakened spots in your enamel.
At Dental Circle, we usually leave about 10 minutes at the end of the appointment for a sit-through with you to discuss our findings and address the issues you initially presented with. If the X-rays indicate that you have early decay we can point them out so you can maintain them with oral hygiene, cleaning the areas properly.
Follow-Up Appointments
We provide a checkup, clean and fluoride treatment at your recall appointments. We don't take X-rays at recall appointments-only every two years.
If anything has changed since your last recall we try to address it or schedule subsequent appointments. We find clinically, six months is the window of time it takes for any new lesions to start and become bigger. If we detect any issues, we can address them at an early stage. By taking a preventative approach fewer intervention measures will be needed.
Book An Appointment
Thanks to flexible scheduling (including evenings and Saturdays) you'll find that it's easier than ever to enjoy the smile you deserve. Same-day emergency care may also be available.
CONTACT US »

New Patients at Dental Circle | (08) 9379 3818