Mouthguards at Dental Circle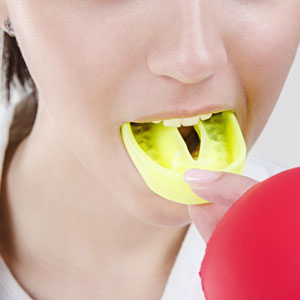 It's important if you engage in any kind of contact sport or sporting activity to get a mouthguard. Our custom mouthguards fit snuggly over your teeth, protecting them from impact. The "boil-and-bite" mouthguards you buy at the chemist often don't fit well and can cause irritation.
Injuries That May Occur Without a Mouthguard
Chipped or broken teeth
Soft tissue injuries of the mouth
Jaw fractures
If you do have direct blows to your face or have contact in sporting activity you try to buffer some of the force so you don't have severe damage to your teeth. A mouthguard protects your teeth from damage.
The process of getting a custom mouthguard at Dental Circle is straightforward. We usually can take care of it during your checkup and clean appointment. During one of those visits, we can take moulds of your teeth.
We can usually issue the mouthguard within 1-2 weeks depending on the lab's timing. We also can have your mouthguard made in different colours. For example, your mouthguard can be made in your favourite shade or your team's colours.
How often should I replace one?

We recommend getting a new mouthguard made at the start of each sporting season. And if you find that your current one no longer fits satisfactorily, that you come in for a replacement.
How should I care for my mouthguard?

After wearing your guard, clean it using a soft and gentle hand soap. Then dry the mouthguard and keep it in an enclosed dry box. Doing so is the best way to prevent any bacteria from building up. Otherwise, the mouthguard can start to smell bad so it's best to keep it clean, rinse it and store it in a container.
Book an Appointment
Contact our Bassendean dental office today to schedule an appointment!
CONTACT US »

Mouthguards in Bassendean WA | (08) 9379 3818