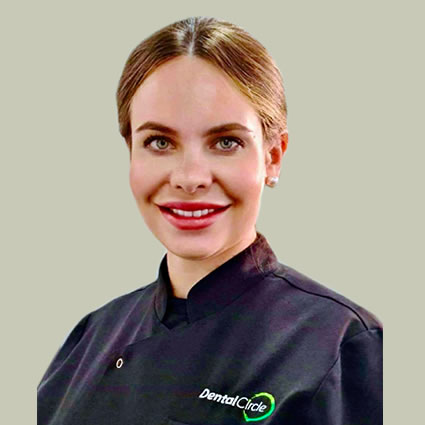 Meet Dr Olga Knurova
Associate Dentist
"As a child, I was afraid of the dentist. Thanks to a good family dentist, who was very patient with me, I was able to overcome my fears. Eventually, I started enjoying my dental visits." Dr Olga got to a point where she decided she wanted to become a dentist. "I wanted to help other people have good dental experiences. I particularly understand how dental fear and anxiety may result in having dental problems."
Dr Olga feels fortunate that she now gets to help people on their journeys of achieving and maintaining optimal oral health.
Education and Professional Development
Dr Olga earned a Bachelor of Science (Human Biology) from Curtin University. She then went on to earn a Doctor of Dental Medicine from UWA (2016). To stay abreast of the latest in the field, Dr Olga regularly attends professional development courses. In particular, she enjoys oral surgery, cosmetic and preventative dentistry.
Helping Patients Achieve Confident Smiles
In addition to helping patients with their oral health, Dr Olga loves helping them achieve confident smiles. She also works hard to provide patients with the right information and skills to be able to maintain a healthy oral environment.
Providing Holistic & Customised Care
Dr Olga takes a holistic approach to dentistry, understanding that our mouth is the gateway to the rest of the body. In her assessment and treatment, she takes into account factors from the rest of the body that may be influencing one's oral health and vice versa.
Understanding that there is no one-size-fits-all approach, Dr Olga addresses each patient's needs individually. She wants to be able to provide the most appropriate diagnoses, solutions and treatments.
In Her Spare Time
When she's not caring for patients' smiles, Dr Olga loves eating good food and travelling to Thailand (her Zen place). She also likes spending time with her family and her "fur children" (two cats and a Japanese Spitz dog).
Book an Appointment
Dr Olga loves meeting and interacting with our wonderful patients. She enjoys seeing them returning to our practice because they appreciate our service and the work we do, as a team. "I look forward to caring for the smile needs of you and your family!"
Contact us today to schedule an appointment.

Dr Olga Knurova | (08) 9379 3818