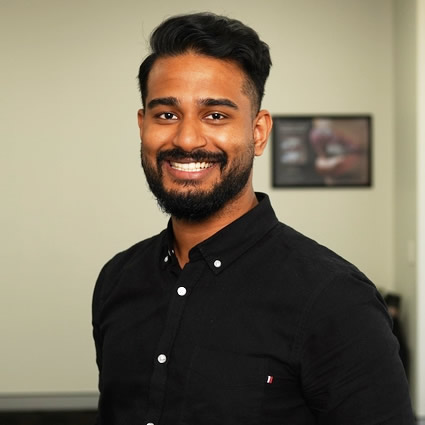 Meet Dr Nafiz Chowdhury
Associate Dentist
"As a child I always found myself scribbling away trying to draw objects and landscapes with precision and realism. Dentistry as a profession combines both art and science to provide aesthetic and functional dental treatment, which I find both interesting and rewarding."
Education and Professional Development
In 2015, Dr Nafiz earned a Bachelor of Science in Physiology from the University of Western Australia. He then earned a Doctor of Dental Medicine from UWA in 2019. To stay abreast of the latest in the field, he attends various courses to ensure that his patients receive contemporary and quality dental care.
Finding Fulfillment Helping Patients
I believe that each individual has their definition of health and as dentists, we are in a unique position to help patients achieve their desired oral health outcome.
He does so through compassion, communication and collaboration.
For Dr Nafiz, it is extremely fulfilling to help patients overcome their dental anxiety so that they can seek treatment without fear of pain or discomfort.
OUR SERVICES »
In His Spare Time
When he's not caring for patients' smiles, Dr Nafiz enjoys the outdoors, hiking, camping travelling, painting and spending time with family and friends. He is also a huge animal lover and a current cat and a future dog owner.
Schedule an Appointment
Contact Dental Circle today to book a convenient appointment with Dr Nafiz!


Dr Nafiz Chowdhury | (08) 9379 3818