Dentures at Dental Circle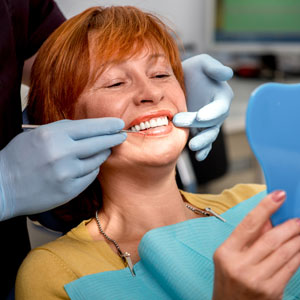 If you have a missing tooth and you've decided you want to do something about it, a dental bridge is certainly one option to consider. But there are other alternatives as well in the form of dentures.
Although dentures have been around for many years, today's dentures are more comfortable and natural-looking. Today's dentures are definitely not your grandparent's ones!
There are two main types of dentures.
Full dentures that replace all your teeth
Partial dentures that replace several missing teeth
Both types may require that some teeth be extracted or that some surgery be performed on the bony ridges beneath the gums to better accommodate your new dentures so they have an ideal feel and fit.
What's Involved in Getting Dentures?
We begin by taking an impression of your teeth which is used to custom-craft your dentures. If your dentures are full, and any extractions are required, a temporary denture is placed to assist with the healing and to provide "teeth" while your gums heal. A final denture is prepared after all healing has taken place, usually within 6-12 months.
Partial dentures replace missing teeth and are attached to existing teeth with anchors made of plastic or metal.
You should take both full and partial dentures out at night when you go to sleep so that saliva can "wash" over your gums to maintain a healthy mouth.
If you have multiple missing teeth we can provide options for full dentures. We can make those in our in-house lab. We also have a trained prosthetist who is skilled in doing denture work; we recommend you come in for recalls with your dentist to make sure your dentures are sitting nicely and still feel comfortable.
If you have part dentures we can check these during your checkup or appointments every six months to ensure they're sitting nicely on your gums and not causing ulceration. Follow-up and maintenance are essential for dentures.
For at-home cleanliness, we recommend that patients don't wear their dentures for 24 hours. Take them out before going to sleep and use a mild soap. And dry and place them in a clean environment to prevent any bacterial growth.
How long will my dentures last?

You can expect your dentures to last between 5 and 7 years. Similarly to natural teeth, dentures wear down and stain as you age. Your mouth is changing all the time. To ensure your dentures fit properly, periodic adjustments will need to be made. We recommend coming in once a year to see your dentist for a denture checkup. You should always let your dentist know if you have any irritation, even if it seems minor.
Will dentures affect my appearance?
At the start of the denture process, there's what we call a "try-in" period. This is an ideal time to discuss the appearance and make any adjustments, so you'll be pleased with the end result.
Many patients notice that once they get dentures, any pronounced facial lines soften, giving them a more pleasing and youthful look.
Will dentures affect my eating?

While wearing dentures you will have to learn to bite and chew a little bit differently. Begin with small portions of food. You also should eat slowly, chewing on both sides of your mouth. It's a good idea to avoid sticky or hard foods in the beginning as you adjust to your dentures.

Dentures in Bassendean WA | (08) 9379 3818