Children's Dentistry at Dental Circle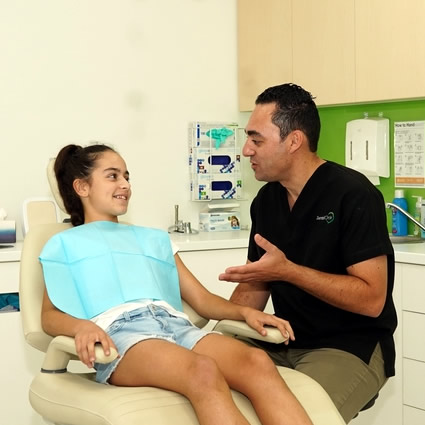 At Dental Circle, we see lots of kids and love getting them off to a healthy start in life!
One of our greatest passions at our practice is helping children of all ages achieve and maintain healthy, beautiful smiles. Because we see lots of kids at the practice we have ways to help them cope in a high anxiety situation.
When Should I Bring My Child in?
Usually, by the age of 2 years, parents bring kids in for their initial checkup. We use a lap-to-lap technique in which the child sits on the parent's lap and leans back and the rest of their head is on the dentist's lap. This approach helps put kids at ease. During this appointment, we can see how your child's teeth are coming along or erupting.
Explaining Everything in Simple Terms
Our dental office also uses techniques such as tell-show-do. We explain procedures in a way that children can understand easily.
If you're wondering if your child needs orthodontics, we can provide an exam to see what's going on with the orthodontics of the tooth. We have a list of orthodontic specialists that we refer out to if necessary.
Treating different orthodontic issues at the right age is important, based on the complexities that are happening. We refer at the right age so the growth can be modified to alter any malocclusions.
We've always accepted the CDBS, and have a lot of patients who use it to help their child keep up with checkups on a preventative basis.
For kids under 18 months, we recommend they use a soft-bristle toothbrush. Between 18 months and 6 years of age, we recommend a children's toothpaste that has half the amount of fluoride. You don't want your child swallowing too much toothpaste after brushing. From 6 onward we recommend they move on to an adult toothpaste.
Until 6 we also recommend that parents supervise their child's brushing. Make sure your child is brushing twice a day for two minutes. They can watch cartoons or videos for two minutes to ensure they brush for that amount of time.
How should I prepare my child for their first appointment?
We believe the best way to prepare your child for their
initial visit
to our office is to maintain a positive attitude. Kids can quickly detect any apprehension their parents may have. So if you make any negative comments about going to the dentist, your child likely won't want to go and will think they're going to have an unpleasant experience.
Our child-friendly practice is a warm and pleasant place to be. We will do everything we can to help ensure your little one has a fantastic experience, not just at the first appointment but at all visits.
You also can show your child pictures of the office and team on our website. Tell your child that it's important for them to keep their teeth and gums healthy so they can enjoy a bright and beautiful smile. Our dentists are well-trained to address any fears or anxiety about seeing the dentist.
How often should my child visit the dentist?

We recommend that you schedule a checkup for your child every six months. Depending on the state of your child's oral health, we may recommend more frequent visits.
As my child's baby teeth aren't permanent why is it important to take care of them?

Although your child's baby teeth don't last as long as permanent ones, the baby teeth play a critical role in development. While they're in place, primary teeth help your child speak, smile and chew correctly. Baby teeth also hold space in the jaw for permanent teeth.
Contact Us Today
Book an appointment today! Call (08) 9379 3818 to schedule your time at our Bassendean dental office!
CONTACT US »

Children's Dentist in Bassendean WA | (08) 9379 3818