Checkup and Cleans at Dental Circle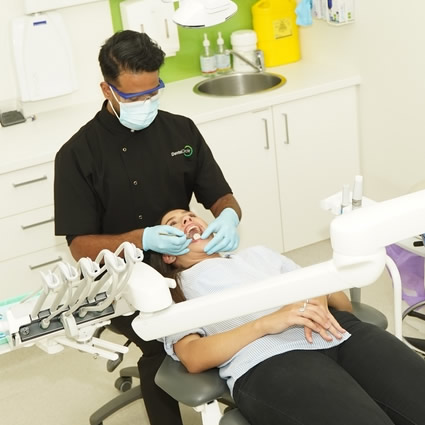 If it's your first visit as a new patient we will ask you to complete a medical history form and discuss any pre-existing health conditions you may have because we care about your overall health not just your dental. We will ask what brings you in and what your expectations are.
What to Expect
If you have any pain or cosmetic conditions that you're not happy with we will make a list of problems you would like to address, followed by doing an examination. The first visit involves a full mouth checkup of the following:
The TMJ joint
The soft tissues of your lips, cheek and tongue
Your teeth of course
We recommend having two X-rays to check in between your teeth to see if there are any cavities and any additional X-rays based on what your presenting complaint is. Then we will perform a scale and clean and provide a fluoride treatment to desensitise your teeth if there is any sensitivity. The fluoride treatment can help to strengthen any weakened spots in your enamel.
We usually leave about 10 minutes at the end of the appointment for a sit-through with you to discuss our findings and address the issues you initially presented with. If the X-rays indicate that you have early decay in certain areas, we will bring these to your attention and explain how to clean those areas properly.
In order to keep an eye on any potential decay or other issues in your mouth, we recommend that you come in every six months. We will send you a reminder text before your next check-up and we will follow up to find a time that's suitable for you.
We provide a checkup, clean and fluoride treatment at your recall appointments. We don't take X-rays at recall appointments-only every two years. We emphasise that we only take X-rays when necessary or every two years per the literature of general dental practice.
If anything has changed since your last recall we try to address it or schedule subsequent appointments to address any issue that come up in six months. People often ask why every six months-"Why can't I come every two years?" What we find clinically is six months is the window of time it takes for any new lesions to start and become bigger. If we detect any early issues we can nip those in the bud. By taking a preventative approach fewer intervention measures will be needed.
Why should I visit the dentist every six months?
Many people think that going to the dentist is all about fixing dental problems or addressing oral health concerns. As we take a preventative approach, we encourage patients to visit our office before problems start.
Preventive dental checkups provide us with an opportunity to help patients avoid various oral health issues like tooth decay and gum disease. Our dentists can diagnose and treat issues in the earliest stages, and screen for oral and overall health problems. These include TMJ dysfunction, bruxism (teeth grinding and clenching) and oral cancer.
How should I care for my teeth between dental checkups?
Because our team only sees you twice a year (unless you need to come in more often), brushing and flossing between your dental checkups are essential. We recommend brushing teeth at least two times each day for at least two minutes at a time. Consider setting a timer on your phone.
Remember to floss at least once a day. If you would like a demonstration of best practices for brushing and flossing at home, be sure to ask your hygienist during your next visit.
What kind of toothbrush should I use?

We recommend that you use a soft-bristle toothbrush as medium and firm ones can damage teeth and delicate gums.
Book an Appointment
If it's been a while since your last appointment, we look forward to seeing you soon. Contact Dental Circle today to schedule an appointment!
CONTACT US »

Checkup and Cleans in Bassendean WA | (08) 9379 3818